Hi guys i am back with another post today, this time i thought i'd put up a post reporting VGC 15 nationals's champion's teams on my site. Sorry for how late these posts got all thanks to the bad internet connection and my mood too :P These same team were taken from www.pokemon.com but here i would also explain a tiny bit of their strategies as i go though them, so bear with me as we jump into the post, let's get started:
Junior division:
we'll start with the little masters of the game, yes the junior division, Aiden McKinney was the one who basically stole the nationals win with his skill and a bit of luck, he was up against none other than the runner-up worlds of 2014 London Swan. the set was a sweep in a 2-0. Aiden brought back the games and stole the win with some really skillful momentum shifting turns he made during the matches. after the finals of junior division everyone was hyped about what was to come. Without anything further i would like to jump into Aiden's awesomely surprising team:
Excadrill @ Focus Sash
Ability: Sand Rush
Adamant Nature
- Protect
- Rock Slide
- Earthquake
- Iron Head
Aiden used the most popular core this nationals of excadrill, tyranitar, aegislash and salamence as many others, so first up on his team would be his excadrill. probably the most common pokemons we see on sand themed teams. Aiden made a really smart choice by making his excadrill hold the focus sash and then give it the adamant nature to deal with opposition of Excadrills while still being powerful than any jolly nature one's.
Tyranitar @ Assault Vest
Ability: Sand Stream
Adamant Nature
- Rock Slide
- Assurance
- Superpower
- Fire Punch
Up next on Aiden's team is this fun looking tyranitar. Aiden's choice of givign it the item assault vest, which under a sandstorm makes it's special defense now double and fire punch makes it a very interesting pokemon and makes it stand out amongst others. Tyranitar was the way to activate excadrill's unforgiving sand rush ability.
Aegislash @ Weakness Policy
Ability: Stance Change
Quiet Nature
- Flash Cannon
- Shadow Ball
- Wide Guard
- King's Shield
This was the third member of Aiden's team protecting the sand theme with it's move wide guard. it's the most standard pokemon well see on his team, but keeping it as simple and as effective is the way for it sometimes.
Salamence-Mega @ Salamencite
Ability: Aerilate
Modest Nature
- Roost
- Dragon Pulse
- Hyper Voice
- Protect
Salamence isn't as standard as it looks in the team preview. ofcourse the final member of this popular quartz core we saw multiple times this tournament. roost's interesting choice was able to catch many opposing players off guard and resulted in wins for Aiden. Again this was one of the mega pokemons Aiden planned to rock his team.
Ludicolo @ Leftovers
Ability: Rain Dish
Bold Nature
- Teeter Dance
- Ice Beam
- Scald
- Giga Drain
up next after the quartz core there was eft slots for only 2x pokemons on Aiden's team. he filled it up with interesting water types. One of these water types was ludicolo. usually 100% we see the fake out, scald, giga drain and ice beam. Aiden decided to switch out the move fake out for the move teeter dance which can work out as an awesome momentum shifter for Aiden. Aiden also potentially chose for a bulkier spread on his ludicolo, as the rain dish and leftovers alongside the bold nature tell their own story.
Milotic @ Maranga Berry
Ability: Competitive
Bold Nature
- Scald
- Icy Wind
- Protect
- Recover
Last up on Aiden's winning team was a milotic. everything about this milotic was pretty standard, until the maranga berry it held. Milotic was also the MVP of Aiden against his first battle against London Swan. The only other person with a maranga berry milotic was wolfe glick we saw at nationals, whereas this type of item choice could not have been expected from a junior.
Senior division:
The winner of
this division is non other than Ben Piercy. Well basically this team was hyped by everyone, cuz nowadays you usually don't see that much of latios, nidoqueen or even volcarona making top cuts or having great finishes. Ben surprised everyone at natioals and finally snagged a 2-0 sweeing win against Carlos, his opponent. Let's jump straight into Ben's team:
>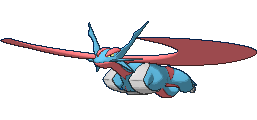 Salamence @ Salamencite
Ability: Intimidate
Happiness: 0
Jolly Nature
- Frustration
- Dragon Claw
- Rock Slide
- Protect
This again is a very different salamence Ben plays. Just like some Kangaskhan were used with return over frustration, this salamence is the same. also except for going for dragon dance on his salamene, he went for rock slide to deal damage to the fire types like heatran and charizard that can wall it.
Nidoqueen @ Life Orb
Ability: Sheer Force
EVs: 252 SpA
Modest Nature
- Sludge Bomb
- Earth Power
- Ice Beam
- Protect
Nidoqeen was another pokemon on Ben's team, nidoqueen proved to be very important for his team in the finals. Life orb + sheer force is extreme destruction as we know it. He did said that he was running max sp.atk for his nidoqueen so i did putted in the EV's for that.
Breloom @ Focus Sash
Ability: Technician
Jolly Nature
- Bullet Seed
- Superpower
- Spore
- Protect
Breloom is a standard uncommon pick,however the choice of superpower over mach punch is interesting, apart from that it is basically what a usual breloom would look like.
Volcarona @ Sitrus Berry
Ability: Flame Body
Modest Nature
- Heat Wave
- Bug Buzz
- Rage Powder
- Tailwind
Volcarona for Ben is his second-part support mon with the unusual tailwind you will see on it. This tailwind is very important for Ben's team is very crucial as it triggers the normal speed tier of nidoqueen, breloom and scizor and makes them a much faster pokemon. This volcarona was basically extremely bulky with sitrus berry adding to it.
Scizor @ Expert Belt
Ability: Technician
Adamant Nature
- Bullet Punch
- Bug Bite
- Feint
- Protect
Scizor wasn't much of an option this year with popular heatrans on the VGC scene. However ben's team utilizes one to it's full potential. with focus sash on breloom and nidoqueen with life orb, the left item choice of expert belt is quite smart. bullet punch and bug bite are standard but feint is important too. Scizor quite funnily it is the second pokemon on Ben's team with the ability technician.
Latios @ Choice Scarf
Ability: Levitate
Modest Nature
- Psychic
- Heal Pulse
- Ice Beam
- Grass Knot
Last up his team there was this interesting pokemon latios. How do you defeat scarfed landorus??? you use a latios scarfed of your own. psychic and ice beam are understandable but the choice of heal pulse and grass knot are both weird and interesting.
Masters division:
Oh yes we were all hyped for this battle as we saw the awesome finals of both junior and senior division. this finals match was also known as the Canada vs US as Raphael Bagara of Canada took on Toler Webb of US also a former world champion. another interesting thing about this match was that surprisingly we saw a mega gardevoir mirror-match nobody was quite anticipating. without further anything else let's peek into Toler Webb's winning team:
Landorus-Therian @ Choice Band
Ability: Intimidate
Jolly Nature
- Rock Slide
- Earthquake
- U-turn
- Superpower
Standard standard yes!
the simplest form of landorus we'll ever see this season with a choice band. superpower turned the intense game 3 in Toler's favor.
Amoonguss @ Mental Herb
Ability: Regenerator
Bold Nature
- Rage Powder
- Protect
- Spore
- Giga Drain
Another as standard as good mon with a twist of the unusual mental herb on it.
Politoed @ Wacan Berry
Ability: Drizzle
Modest Nature
- Scald
- Ice Beam
- Helping Hand
- Protect
Oh he used a rain team right?..... NO!.... yes this was Toler's twist on his team. Toler used the first ever non-rain themed team offensive politoed. it gave some really good points such as covering up the weaknesses of amoongus and aegislash. his choice on the item of wacan berry saved him a game against Raphael when he got doubled up on it by and EQ from lando following the thunderbolt from thundurus, when he dealt 97% to his lando-t and snagged a lucky burn. The move helping hand saved him and got many misplays from opponents.
Aegislash @ Leftovers
Ability: Stance Change
Modest Nature
- Substitute
- Shadow Ball
- Wide Guard
- King's Shield
This again is the most interesting aegislash you guys will ever see on a team.only just because of the reason it get's both the moves substitute and wide guard that no one will expect on it after the lefties are revealed, hoping only for a substitute. with flash cannon replaced, his team did had alot of methods for taking down rock types like tyranitar for which it probably needed one.
Thundurus @ Sitrus Berry
Ability: Prankster
Modest Nature
- Thunder Wave
- Taunt
- Hidden Power [Ice]
- Thunderbolt
This is the most common, yet i'll say old fashion thundurus we can see in VGC. however it favored his team greatly and turned in it's favor.
>
Gardevoir @ Gardevoirite
Ability: Telepathy
Modest Nature
- Hyper Voice
- Psychic
- Hidden Power
- Protect
Finally the MVP of the show however came last is also an interesting pokemon on Toler's team. interesting in the sense that it uses the move Hidden power over the usual encore and trick room as we know of nowadays. t isn't a trick room mega gardevoir, was what we saw all nationals basically (ideas from Japan) and it also had the ability telepathy over trace what again we mostly saw and also did helped him use the move earthquake more often.
Conclusion:
Once again extremely sorry for how late this post got, by the time i am posting this report as it was meant to go up almost a week ago now. However hope you guys enjoyed the read and maybe picked up some ideas for your future teams. Bye for now!